Febrary 10, 2016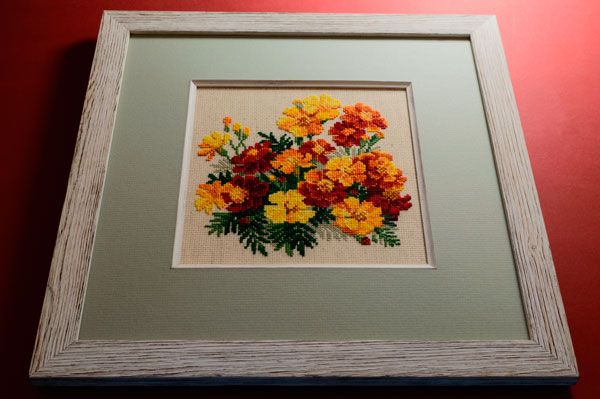 Marigolds are common residents of country and urban flowerbeds. Yet these beauty comes from distant, hot countries. In Europe they have spread from Spain after crossing the ocean on the way from Mexico. Indeed, these flowers are just like flying and fluttering in a stormy dance skirts. Embroidery No. 1556 Marigolds will give you another opportunity to see something unexpected in familiar.
| | |
| --- | --- |
| Cross-stitching is an occupation, which dispose to a meditative and contemplative mood. First of all the mind gets on a subject that occupies hands. Perhaps that is why many needlewomen are looking for special embroidery subjects and choosing projects connected with all the good, cosy and warm. From this point of view embroidering marigolds should be a very enjoyable way of spending time. | |
| | |
| --- | --- |
| | This plant symbolizes loyalty and longevity. In China it is also called "flower of ten thousand years". And as anemblem a bouquet of marigolds with a gold ring is associated with immortality. |
| | |
| --- | --- |
| Saturated colors of flowers remind us of the joy of life and its bright moments. The palette of the embroidered picture is 18 colors of woolen/acrylic yarn Safil. Please note that some colors are combined (blends). Only two techniques are used in this project – cross-stitch and half cross-stitch without outline with backstitch. The kit includes 14 ct flaxen Aida Zweigart fabric. The approximate finished size is 20 x 20 cm. | |
Recall that there are several other cross-stitch kits in this embroidery series. You can choose your favorite and frame them in the same style creating a beautiful composition.
| | | | | |
| --- | --- | --- | --- | --- |
| | | | | |